Table of Contents
Digital wayfinding is the way to help people get from A to B in the modern world. We're not talking about just replacing paper maps with digital ones that don't change; we're talking about interactive wayfinding. People use their phones every day to find their way around on their own – your wayfinding signs should be the same.
The Basics of Digital Wayfinding
Touchscreen maps on interactive digital signs or interactive wayfinding kiosks help people find their way around a room, area, building, or campus in a "self-service" way.
By giving people control over the search process, they feel more in charge, making their visit more pleasant. It also saves your business time and money because fewer people need to ask staff for directions. If you have the right mix of signs and wayfinding, you might not even need an information desk in the lobby.
Maps can not only show where you are, but they can also show the best way to get to where you want to go. Some digital signs which help people find their way can even let people print the exact directions they need (or send them to their phone or tablet via a QR code or text message). A good picture of a landmark along the way can also help you find your way.
Signage systems to help people find their way can include directories which can be searched by people, places, departments, events, etc. You'll also need to think about how the information in the directory gets updated.
Designing Wayfinding Signage
When designing signs to help people find their way, you can use flat designs, maps tilted on an axis or 3D maps. You'll want to match your brand's style, but you also need to think about what's important to a visitor and convey this information in the most logical, easy-to-understand way.
Utilize floor maps for certain buildings, campus maps for bigger locations, and Google Maps integration for even broader coverage. You must also consider ADA standards while developing and positioning the information (and physical signage or kiosks). For instance, is the whole display situated at a height that allows wheelchair access? If not, you will need to add buttons to the display's bottom.
Wayfinding Signage System Teams
To implement a fully digital navigation system, you will need a team. This will most likely contain a project manager, a graphic designer, a developer or a programmer; input from marketing to ensure everything follows brand guidelines; and someone from facilities to provide and validate maps and directory entries.
Your IT department will likely be required to develop and link the wayfinding system with your directory or database. In most instances, your digital signage provider Clear Touch Media will handle the creative and coding work, collaborating with your marketing, facilities and IT personnel to deploy it.
Combining Signage and Wayfinding
Remember that digital navigational signage allows you to display extra screen material such as weather, date, time, news (in a ticker or a distinct content zone), bus and traffic information, facility notifications, etc. By employing touchscreens, you can extend your digital signage real estate while providing consumers with what they need and require.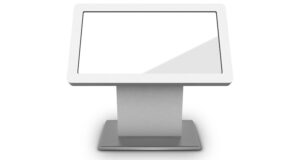 Additionally, you can encourage navigation on your conventional digital signage and vice versa. Suppose you have designed your wayfinding in HTML5 (or another responsive platform). In this case, you can incorporate it into an app or allow users to download it onto their mobile devices by a simple QR code or URL shown in messaging on displays across your facility. If you lack the funds for touchscreen kiosks, you can still provide a digital version.
Wayfinding is one of the most valuable services you can provide to your audience, and a well-planned digital wayfinding solution can also wow visitors to your facilities. Your objective is to simplify their life, save them time and enhance their visit. Effective digital wayfinding can do just this.
Choose Clear Touch Media Digital Wayfinding Signage
Our digital display systems and navigation software are ideal for retail stores, business lobbies, educational institutions, hospitals, shopping malls, museums, and experiential marketing campaigns. Our options for indoor and outdoor LED signs are ideal for projection technologies, interactive shop experiences and more. 
Contact us in Toronto at (905) 362-2622 to learn more about digital wayfinding or visit cleartouchmedia.com online.