What Are Digital Wayfinding Maps?
Few things are as annoying as getting to a place or building and having trouble finding what you need. Whether you're in a store and need to find something to buy; a stadium and need to find your seats; or worst of all, a hospital and need to find a loved one –  it's frustrating to look for something important in a place you don't know well.
Interactive Digital Wayfinding Maps
Digital wayfinding maps are interactive screens which are used in buildings and on campuses to help visitors find their way and obtain information.
Interactive wayfinding technology is much better than static maps and signs because it lets the user interact with a screen plus see a video of how to get from one place to another. This makes it much easier to get around a place.
Users can also search through information to find what they need specifically and filter out what they don't. Digital maps of how to get around are often put near the entrance and all over large buildings and campuses so visitors can find directions when they arrive (and as they need them during their stay).
Benefits of Digital Wayfinding Maps
Digital maps make it easier to find your way around campuses and offices of all sizes. The benefits of a digital wayfinding map are many:
Reduces visitor frustration and increases satisfaction: Guests are happier with their time at a place when they can find what they're looking for quickly and easily.

Reinforces branding: When guests use your map, they see digital screens with your logo, colors and branded graphics. This helps to reinforce branding and makes it easier for people to remember your brand.

Shows you're investing in technology: Using interactive technology instead of old, static media shows guests your organization is committed to using the latest technology. It makes your store, shop or facility look more expensive and high-end.

Relieves stress on human resources: With digital maps, organizations don't have to rely as much on human resources to help guests find their way; maps can give visitors the specific information they need.

Provides a directory: Interactive digital screens help guests find their way and the information they need. This technology can have directories, so guests can look for what they need, and then get directions to that place.

Prevents congested hallways and walkways: When visitors know where to go, they're less inclined to gather and stop in walkways. When they are able to take a straight route to their destination, the flow of traffic is maintained.

Delivers immediate emergency messages: With displays located across a site and synchronized using the same technology, digital wayfinding tools become a centralized communication tool which can rapidly share urgent messages with the whole area through a single platform.

Information is easy to change: Information on digital signs is easy to change and update. With a content management system, changing content is as easy as clicking a few buttons. If you want to make changes to a print map, you have to buy a new one. You can make changes to digital maps for little or no money.

Reduce inconsistencies: Since you can readily and economically update the information on a digital screen, you can make even the slightest adjustments in order to guarantee the material is always consistent, current and relevant.
Who Can Benefit From Digital Wayfinding Maps?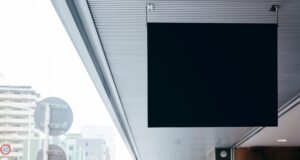 Digital maps can be used in a lot of different locations to help several industries such as:
Residential complexes

Hospitals and medical facilities

Arenas and stadiums

Resorts and hotels

Educational campuses

Airports

Convention centers

Malls
Even though the basic functions of wayfinding tools are the same for each industry, screens can be changed to fit the needs of each location.
Choose Clear Touch Media
With Clear Touch Media digital display systems, you can turn any indoor or outdoor space into an interesting, informative and fun place to be. For more information, call us at (905) 362-2622 and get a free, no-obligation digital signage consultation.
Please call us and book a digital display advertising demo today.