Table of Contents
The incredible power of digital menu boards is a fast-food industry standard. When guests enter or pass a restaurant, they search for the menu. Stunning menus with intriguing pictures draw customers and urge them to order. Studies reveal restaurants with digital signage increase unexpected sales by 80%. We'll explain how digital menu boards function now:
Components Necessary To Energize a Digital Menu Board
A digital menu board includes a plasma screen, digital signage media player, and software to show menus, specials, etc. Images, films and animations grab customers' interest. Digital menu boards let consumers make faster ordering selections, improve customer experience and raise store income.
There are three essential components to a digital menu board:
Digital Signage Displays
There are two kinds of screens on the market: one made for business and one for home use. When deciding between the two, you should think about the following:
Commercial-grade display:

Commercial screens are more expensive, but they can function 24/7 and have longer warranties. A commercial-grade screen's brightness range of 300 to 1,500 nits prevents glare (even in direct sunshine). The screen frame (bezels) is narrower to increase screen visibility; this removes the TV makers' logo, which is great if you want yours to stand out.

Consumer-grade display:

Consumer-grade screens are cheaper. If you use this type of display commercially, the warranty is usually void. The home-use screen is consumer-grade and the screen's lifetime is less than commercial-grade screens since it's not meant for 24/7 use. Consumer-grade displays are 150 to 250 nits brighter than commercial-grade screens. Thicker bezels display TV brands and the screen will be difficult to read in direct sunlight.
Digital Signage Player​
The digital signage media player runs software and displays menus. The media player needs an internet connection to download software content. Windows PC, Android TV, and Nano-PC are types of digital menu board media players. Windows PC and Android TV may look nice, but they have several restrictions and downsides.
When looking for the right media player, you should look for the following:
Small and sleek: The equipment should easily fit into the small space behind the screen.

Easy to install: It is simple to set up, and it only needs a few wires.

Easy to maintain: You should be able to update the device without taking it off.

Built specifically for digital signage: This ensures the best performance possible.
Digital Menu Board Software
Digital signage software (or in this instance, digital menu board software), is content management software that enables you to upload/update menu information and broadcast it to your restaurant's menu board across the internet in a matter of minutes.
Here are some must-haves for software:

Cloud-Based, Centralized Content Management System: With this technology, you can view, share, and control screen material anytime, anywhere. As you manage your digital menu boards, you can ensure meals and promotions are displayed on time without waiting.

Flexibility To Edit: You can modify without depending on others (including designers). You can update menu items and prices in real-time and without limits.

Dayparting: Breakfast, lunch, and supper menus can be switched automatically. You don't need to worry about the menu transition; the system will handle it.

Advanced Scheduling: Menu changes and promotions can be scheduled. Create material based on your strategy and schedule its appearance in the system. Menus refresh automatically.
Where To Place Your Digital Menu Boards
The success of your digital menu boards is contingent upon where you put them. Digital menu boards can be shown in two places:
At the Ordering Counter:

When guests enter the restaurant, they'll proceed to the ordering counter. Placing your digital menu board here will attract customers' attention. An attractive menu board will let customers place orders quickly. Stunning animations will delight consumers as they wait in line or for orders – this reduces their perceived wait time and ensures their satisfaction.

At the Drive-Thru:

Drive-thrus need computerized menu boards. 75% of fast-food businesses provide drive-thrus. Multiple digital menu displays at drive-thrus enable consumers to see menus while waiting. 2020 drive-thru research also found that digital menu boards cut service times by 12.3 seconds. With digital menu boards at drive-thrus, you can enhance revenue and customer traffic.
How To Choose an Appropriate Service Provider
Many companies provide digital signage solutions. You can choose between a service integrator and a whole solutions provider for digital signage. A system integrator assembles components but does not design nor create products. A whole solutions provider develops and produces their hardware and software to ensure everything works well together. Total solutions providers provide internal services, including graphic design and technical support.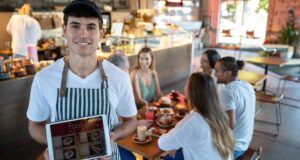 Both of these service providers can help with digital signage. But it is highly recommended that you go with a company which offers a full range of services. If you have any questions or concerns, they will be able to help you (and get everything back on track quickly).
Choose Clear Touch Media
Our digital display solutions and wayfinding software are perfect for retail stores, business lobbies, educational institutions, hospitals, malls, museums and experiential campaigns. LED sign options for indoor and outdoor use are great for projection technology, interactive storefront experiences, and everything else. 
Please call us at (905) 362-2622 or visit Clear Touch Media online if you want to know more about digital menu boards.