Digital Signage Solutions
Transform any indoor or outdoor space into an engaging, informative and entertaining experience with CLEARTOUCH digital display systems in Canada & US.
Learn More
78% of consumers find digital displays eye catching. Increase your brand exposure and engagement with state of the art digital display signage.
Multi location digital display installations allow for hundreds of thousands of impressions, exposing your visitors to the most powerful advertising available.
100% of consumers find our display controllers easy to customize and use on a daily basis, bringing their visitor's experience to life.
Digital Display Advertising and Signage is a More Effective
Way To Engage With Your Visitors
We enable digital visual communication so you can effectively promote, engage, and educate your audience, while providing an interactive and emotional response. Our Toronto based digital display advertising solutions include, digital signs, walls, billboards and interactive displays, see more below.
Digital Signage Solutions & Display Advertising Services
Our digital display solutions in Toronto and the GTA are perfect for commercial lobbies, retail stores, Corporate Communications, Healthcare facilities, Banking and Financial, Hospitality/Hotels, Education facilities, Government facilities, Industrial /Manufacturing, Food & Beverage, Automotive, Casino and Gaming, Property Management locations and for all types of experiential campaigns. Indoor and outdoor LED options perfect for projection technology, interactive experiences and everything in between.
Today visual technology rules. Take advantage of digital displays for advertising to help your ads and communications stand out and capture the attention of your market. With digital images and media, you can take your marketing initiatives to the next level. As one of the premier digital signage companies in Canada, we can get your message out to the masses or target the specific locations and demographics.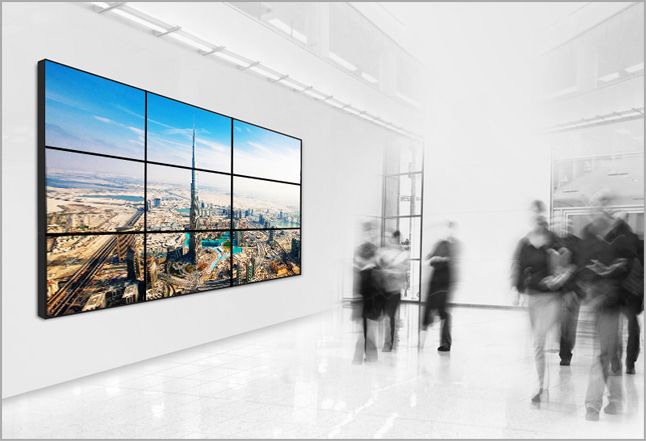 Digital Signage Solutions for Your Industry
Digital Signage for Corporate Boardrooms and Buildings
Digital Signage for Healthcare, Hospitals & Clinics
Digital Signage for Retail Stores
Digital Signage for Universities and Schools
Digital Signage Menus for Restaurants
Digital Signage for Banks
Digital Signage for Hotels & Hospitality
Digital Signage for Automotive Dealerships
Digital Signage for Manufacturing & Industrial Plants
Digital Signage for Casinos
Digital Signage for Government Buildings
Digital Signage for Real Estate Offices