Table of Content
To not use it, you have to have a good reason. Whether you run a hotel, a boutique, a pharmacy, a leisure center, a car dealership, a restaurant, or a takeout place, it's important to give customers information and messages that stand out. You get more clients, get them to spend more on average, save money on printing costs, add more energy and vitality, and make more money.
Time to join other small and medium-sized enterprises (SMEs) using digital signage to get people's attention, increase sales, and avoid the costs of using static, non-digital methods to show menus and promotions. As many other people have, find out the real benefits, savings, and ways to make more money hidden in those pixels.
Impulse Buying Behaviour
You're set wherever you have a market that depends on impulses, such as in boutiques, restaurants, and take-out places. When people buy on impulse, it throws off their normal decision-making methods. The logical order of the consumer's actions is replaced by a moment of self-gratification that makes no sense. People buy things on impulse because they make them feel good. Some things that people buy on the spot aren't useful or necessary in their lives.
By putting up promotional messages in the right place and at the right time, you can get people to act on these impulses. You have to nudge them toward something that piques their interest, which brings them right to your cash registers.
Raise Your Company's Profile
Many small and medium-sized businesses also know that they have a great Return on Investment (ROI). Sure, we know they're eye-catching and can easily entice passersby with mouth-watering images or upsell on the spot with carefully crafted messages that use the power of motion and change.
But now, those screens save money by making a modernizing effect at a lower cost than making major leasehold improvements. For example, an "eye-catching" 40-inch digital screen built into the design of your storefront and visible to anyone walking by saves you more than making major leasehold improvements. You can save a lot of money. Digital Signage can add a lot of life and energy to the front of any store, giving your business a new look. Any small business with a vision and wants to stand out from its competitors can easily give itself a more "high-end" look.
This gives SMEs a great place to advertise on any busy high street, but it also raises their profile. As digital signage becomes more common as a way to advertise, it becomes easier to use.
Opportunity To Profit From Advertising Time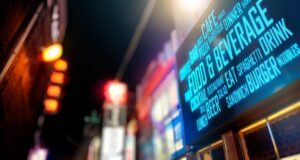 By promoting other companies and services and selling advertising space on your digital display to other local businesses, these systems may also be utilized to earn advertising money.
Revenue generating via promoting local, non-competing companies; a major brand such as Budweiser may not be interested in advertising on one or two screens in your store, but the local hairdressers or plumbers may be. And in light of the declining popularity of local newspapers, comparable small merchants would be well to follow suit.
Digital Signage may be an active part of any marketer's strategy, unlike static listings in local directories and printed banners/signs, which, when added up, can cost the ordinary store a lot over time, with ROI that is difficult to assess.
In difficult economic circumstances, you must modify your company practices by limiting the flow of less feasible items with minimal value. Digital Signage provides SMEs with tangible and quantifiable advantages – proven business benefits.
Choose Clear Touch Media Digital Signage
Digital Signage Solutions & Display Advertising Services
Our digital display solutions in Toronto and the GTA are great for commercial lobbies, retail stores, Corporate Communications, Healthcare facilities, Banking and Financial, Hospitality/Hotels, Education facilities, Government facilities, Industrial/Manufacturing, Food & Beverage, Automotive, Casino and Gaming, Property Management locations, and all kinds of experiential campaigns. LED options for both inside and outside work well with projection technology, interactive experiences, etc.
Visual technology runs the world today. Use digital displays for advertising to make your ads and other communications stand out and get people's attention. You can take your marketing to the next level with digital photos and videos. As one of Canada's best digital signage companies, we can spread your message to a wide audience or focus on a specific location or group of people. Contact us now!