What Is Digital Signage?
Digital signage technologies and solutions are subcategories of electronic signage technologies, generally displayed in LED, E-paper, projection devices, LCD, etc. There are three primary subcomponents upon which they are constructed:
Hardware
This covers the visible, touchable, and feelable physical components such as displays, cameras, payment devices, mounts, printers, etc. Installation and connectivity are two highly crucial subcomponents essential to the hardware.
The installation components consist of equipment used to install the signs' system. Frequently, most of these components do not make it into the final product – yet the final product may not be possible without them. The connection components are the apparatuses which connect the remainder of the device to the Content Management System. Occasionally, these may consist of a sequence of rigid lines.
Occasionally, they consist just of a Wi-Fi setup or other mobile technologies. However, without this link, the other Hardware, Content, and Software components would be unable to communicate.
Software
This refers to the digital infrastructure which facilitates the production, administration, analysis, and distribution of material placed on the hardware. The program is known as "digital signage software".
Content
As you may have imagined, this covers every picture, graphic, video, text, audio (and other material type) that can be constructed to inform, market or tell a unique narrative.
Uses of Digital Signage
Brands and Retail Outlets
To have unrestricted access to present and future consumers, many companies generally display their signs in public areas; thus, companies can distribute their material to a large audience and attract new opportunities.
Similarly, retail establishments use similar marketing tactics. You can easily discover retailers with enormous digital displays in their storefronts for alerting consumers to limited-time, immediate deals and other pertinent information.
Healthcare
Digital signage display technologies enable healthcare providers such as hospitals and medical institutions, to swiftly and efficiently distribute information to their wards without spending excessive human effort. In this manner, they can easily attract more new patients while delivering superior service.
Restaurants
Restaurants are among the most popular locations for digital signage displays. These installations facilitate client interaction along with the delivery of numerous services without human intervention.
One of these services is the display of menus and menu revisions, discounts, and other vital ads designed to attract customers. This reduces the expenses and efforts required to provide this vital information to visitors and customers.
Airports
Popular at contemporary airports are digital signage displays which show flight statuses and other pertinent information. In this method, passengers boarding a flight can view any pertinent information about their trip such as if the departure time changes; if they are still waiting for additional passengers; and any other pertinent information regarding the flight status. This also helps to reduce the length of lineups inside the airport.
Education
Numerous contemporary schools use digital signage panels to promote their institutions and universities. They use these technologies to disseminate information as necessary and interact with parents to urge them to enroll their children, etc. Additionally, certain organizations use these to make significant announcements.
Digital Signage for Events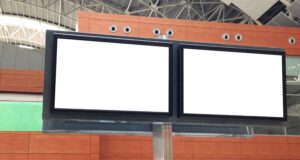 We at Clear Touch Media cannot complete our examination of this technology without discussing live events as one of the best and most enjoyable venues to implement electronic signage – particularly when enormous audiences or vast stadiums are involved. These are often employed to give a more powerful experience. If the stage is located at a considerable distance, you might discover enormous displays showing various information (or giving live feeds of the action).
In addition to its technological efficacy, digital signage adds elegance and charm to events, making them look more refined and professional. Incorporating these solutions into your event gives your audience a more memorable and rewarding experience.
To learn more about the technical features of digital signage, the required equipment, and the costs involved, don't hesitate to contact us and find out what Clear Touch Media can do for you. Visit us online or call us at (905) 362-2622 today.
Please call us and book a digital display advertising demo today.