If this is your first time delving into the world of digital signage, you may feel a bit perplexed at the prospect of choosing something such as a digital billboard for advertising your service.
Putting aside the creative concept for advertising on a billboard, finding the right rate for a billboard is more likely the factor you're more concerned with. How do you choose the right operator for your billboard? And how do you make sure you're not being ripped off?
For those in Toronto seeking digital billboards for their marketing strategies, here are some necessary details to get you started.
Learning the Basics of Digital Billboard Rates
– Research
Look for other advertisers in your area that are using digital billboards for their marketing campaigns. Talk to them about rates and find out if the ROI is worth it. If your digital billboard will be the first in your area, use traditional media rates as reference. Costs per impression for ads in selected media such as newspapers can help you determine whether hiring a digital billboard is worth it. The cost per impression or CPM for newspapers is 3.2 cents. For digital signs, that would account for upward of $9–$32.
– Get a Traffic Analysis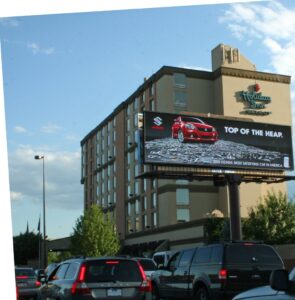 The purpose of a digital billboard is to announce your promotions to as broad an audience as possible. Compare the value of your digital billboard in terms of viewership to that of traditional media. Typically, digital media offers more significant exposure to a broader demographic than that of traditional media like advertisements in newspapers.
– Get Assistance with Digital Content
Unlike traditional billboards that require a static image, digital billboards require more creativity and responsiveness. Search for professional content creators for your advertising needs. Use this moment to get better feedback from your customers and sales staff. Find out what the audience wants to see and what appeals to them. Use that information to your advantage.
– Consider More Options for Your Digital Campaigns
Slowly convert your advertising and marketing campaigns and bring them to a digital platform. Dynamic platforms are more effective and offer more engagement than traditional modes of advertising. Opt for indoor digital kiosks, LED video walls, and other interactive signage, combining it with responsive messages that lead to the message of the campaign being posted on the digital billboard. That will be more impactful than traditional advertising modes like posters or ads in newspapers.
Get in Touch with Us!
Clear Touch Media is a leading service in Toronto that offers indoor and outdoor digital advertising and signage. If you require a digital billboard for your marketing campaign, get in touch with us.
We offer affordable rates for our digital display systems. Call now at 647-952-9540.