When it comes to ensuring your customers have a stellar in-store experience, taking care of the visuals is essential. If your store is decked out in drab design and décor, it goes without saying that your customers will wander for a few minutes and head to the door without making a purchase.
In short, transforming your outlet into a visual treat is a surefire way to engage more customers, increase sales, and skyrocket brand recall. But how do you get started? Here are some ideas!
Let Spotlights Do the Trick
While you can experiment with a wide range of indoor lights, make sure you don't sideline the impact and aesthetic appeal of spotlights. As the crème de la crème of store lights, spotlights are a cut above the rest. They beautifully illuminate indoor spaces without creating a harsh effect.
Strategically using spotlights is a tried-and-tested trick to help customers feel more relaxed as they enter your store. Spotlights emanate a warm, soft glow that makes spaces appear more inviting, serene, and homely.
Find the perfect fixtures to give your store a quick and affordable makeover!
Install an Eye-Catching Outdoor Sign
The right outdoor sign can take your store from drab to fab. In fact, research indicates that 78% of customers find digital displays compelling.
Start by doing your research and figuring out which outdoor sign is best for your store. Take different factors into consideration: spatial requirements, your brand's aesthetic, your budget, your audience's preferences, and more.
You can opt for an exterior digital wall or billboard. Either way, a vibrant, eye-catching sign will compel prospective customers to walk into your store. With greater engagement, you can expect more sales and a staggering profit.
Click here to discover more benefits of using digital signage for advertising.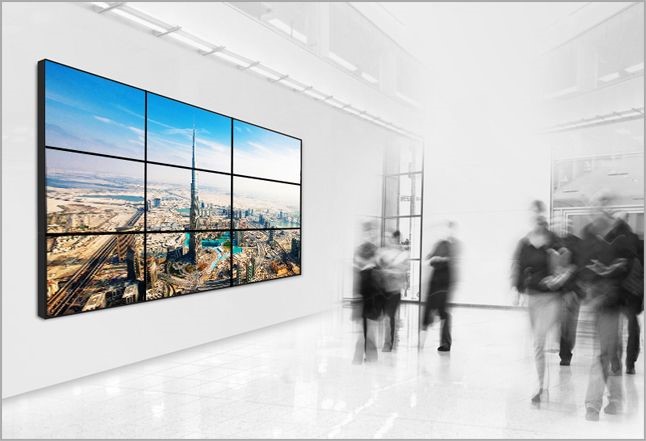 Spruce Up Your Store with an LED Indoor Display
While exterior displays are important, they're not enough. Give your store some TLC by indulging in an LED indoor display that turns heads. You can opt for a hanging digital display, floor display, indoor sign, digital wall display, or digital board.
Again, take your store's unique requirements into account to determine the right option. LED indoor displays expertly engage customers with their rich visuals. Whether you choose to display an ongoing sale, explainer video, or testimonials, you'll make a winning impact.
Depending on your industry, you can also branch out into different visual elements, including digital menus boards.
Ready to transform your store into a visual treat? We can help you get started! We specialize in offering cutting-edge indoor and outdoor digital billboard solutions in Toronto.
Check out our collection of digital billboards, indoor digital signage, digital floor displays and kiosks, digital display controllers, and digital display hardware to find an option that's right for you!
For more information, call 647-699-4074. We're always happy to help!