Table Of Contents
Due to the prevalence of digital signages in high-traffic places such as shopping malls, airports, and restaurants, many people mistakenly assume that they are primarily utilized for commercial purposes in public spaces. However, digital signage may also be utilized to increase internal communication inside a business or office.
Since digital signages are regularly located in high-traffic places such as shopping malls, airports, and restaurants, many people think digital signages are solely utilized for commercial purposes in public spaces. However, digital signage may also be utilized inside a business or workplace to enhance internal communication.
What Is Internal Communication?
Internal communication is essential for strengthening the relationship between workers and the firm. Internal communication is about providing good communications inside a business to build trust.
Every organization should make a concerted effort to provide the finest employee experience possible, from message development to staff motivation and information dissemination. When workers feel linked to the organization, they are more engaged and contribute more.
Traditional Internal Communication
Traditional internal communication is losing momentum due to the digitization of the business environment.
Old-fashioned communication focuses on distributing information using conventional means such as emails, notes, and bulletin boards. Nevertheless, supplying information alone is never sufficient. The primary reason for this inefficiency is because emails and bulletin boards are insufficiently engaging to keep staff engaged.
A note posted on a noticeboard, for instance, might easily be overlooked. Even if an employee is ready to read the message, excessive wordiness might promote skimming, leading to misunderstandings.
Another example is the unread email. Some workers seldom examine their email inboxes.
Digital Signages Are Attractive
There are several ways digital signages may be deployed to enhance an organization's internal communication. The display of corporate news, such as meeting schedules and company activities, is one of the most prevalent uses.
Digital signage is appealing owing to its capacity to capture attention via vivid colours, captivating pictures, dynamic movies, and distinctive typography. Digital signage supports various digital media forms, including photos, videos, animations, and motion graphics, making all of these conceivable.
Moreover, the display technologies used by digital signages improve daily. From LCD to LED display technologies, digital signages continue to provide high-quality visuals. Video resolutions are growing greater. The colour palette is expanding and becoming more vibrant.
When the display is appealing, workers are more likely to recall the material. Thus, they will behave by the announced declarations. The rate of recall for digital signage is quite high.
Improve Employee Motivation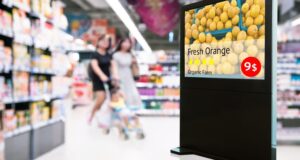 Motivated personnel may contribute to the success of a firm. Employ digital signs to promote the company's objective, vision, and purpose. This might encourage and excite people to strive toward the same objectives. By showing encouraging words, objectives, and successes, digital signage may also be utilized to raise the level of staff dedication.
Moreover, it will be essential to acknowledge workers' accomplishments. Managers and business owners may express their thanks by broadcasting recognition messages on digital signages. This may assist to improve team spirit.
Fun In The Workplace
Business is serious, but it does not always imply that a tougher working attitude is optimal. There are moments when comedy might provide more benefits to the organization.
Digital signages may show humorous films or graphics to enliven the office atmosphere. Work pressure may occasionally cause people to isolate themselves from their teammates and coworkers. Internal communication within a company might fail if there are no dialogues.
Social Media Wall
A social wall is a sort of digital signage that displays social media feeds from sites such as Instagram, Facebook, and Twitter in real-time.
Displaying social media feeds is an expression of gratitude. Employees demand compensation for their efforts.
Customer feedback is the most immediate indicator of whether or not one's efforts are paying off. Some satisfied clients may publish social media postings regarding satisfactory services or items.
Showing these live feeds on digital signages throughout a company makes it possible to enhance employee engagement and communication. Employees will be pleased to discuss these accomplishments with one another.
Advantages Of Digital Signage As A Method Of Communication
A major corporation can have offices and branches in many places. Using digital signages in a business may guarantee that all offices communicate consistently. The administrator may quickly publish and push material to all other digital signages in various places from a central site.
A further advantage of adopting digital signage in an organization is that material may be published more quickly than the conventional method of posting a message. It may save time and money on printing.
Internal communication management is never a simple process. Engaged and motivated workers are an organization's greatest asset. Give yourself the chance to implement a digital signage network in your firm if you are having trouble fostering a solid connection between workers and the organization.