What Is Digital Signage?
Digital signage is public electronic signage. Businesses utilize these to communicate and market. Digital signage includes LED, LCD, e-paper and projection screens. Digital signage may show movies, photos, HTML web pages, social feeds, static adverts, weather data, menu text, etc.
Why Is Digital Signage Important?
Digital signage providers can help you inform, amuse, educate and interact with retail consumers. It includes films and interactive games. 
Research shows that by 2025, the global market for digital signage will have grown to $31.71 billion. Because of this, the growth of the industry is always going up. These are some of the benefits:
Getting potential customers' attention and getting them to buy by showing them multiple messages

Increasing the opportunities for advertising in small areas

Getting customers used to the tone of the brand by sending them timely messages

Changing the look of physical spaces to match the business's brand

Getting a good return on investment by lowering the cost of printed materials and logistics

Travel costs can be cut by connecting with remote staff in real-time over the internet.
How Does Digital Signage Work?
There are three main things to think about when looking for digital signage:
Digital Signage Hardware
Digital signage hardware is a media player. USBs to powerful PCs are available as media players. Your firm's media player needs rely on your budget, business needs, and desired level of control.
Ideal digital signage hardware satisfies the following characteristics for optimum performance:

Can function as a minicomputer operating Windows, Android or Linux

Customizable and installable with pre-designed proprietary signage software so it can request the remote server to download (or update) the material

Most importantly, the hardware must be compatible with the program, so you don't worry about a dark screen
Digital Signage Software
Digital signage software runs material smoothly. Digital signage software includes content production, administration, rule-based, playlist-driven, device management and media player software. Varied providers' content management systems have different features; thus, signage depends on your company's demands. Consider a firm's content-creating staff – a solution which helps you deliver and distribute information effectively may work in such instances. If you lack the infrastructure to develop materials, try template-based software.
Other Components
Human Capital: This team deploys, implements, and analyzes digital screen display projects.

The Content: Relevant, personalized information to grab buyers' attention. Call-to-action-optimized digital content will engage your viewers more.

Display Screen(s): TV, kiosks, Menu boards, or iPads for outdoor and interior signs.
Where To Employ Digital Signage in Retail Stores and Shopping Centers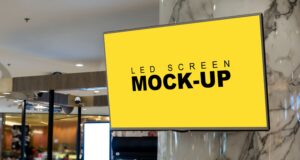 80% of companies which deploy digital signage report higher sales (up to 33%). Retail shops, hotels, restaurants, and commercial buildings have them. Many restaurants have computerized menus.
Retailers sell space, time and attention. Use digital signage to its greatest capacity without creating hurdles. Here's how to utilize the greatest places:
On the Walls

– This is an ideal option for retail stores with limited floor space. By having digital signage on the wall, you can attract your customer's attention to your promotions without creating barriers for them to shop through the store.

Aisle Endcaps

– Aisle endcaps are great for showing best-selling or promotional items to shoppers. This will help you upsell and encourage impulsive purchases.

At the Store Entrance

– Video walls can provide a "wow" effect and attract customers. If you don't have wall space for display panels, use kiosks to promote your business. Add interactive components (touch screens) to your kiosks to generate client interest in your offerings.

High-Traffic Areas

– Display real-time information, PSAs, safety warnings and advice, promotional offers, and other messaging in high-traffic locations. Digital directories can help people find their way.

Checkout Counters

– Digital signage at the point of sale helps cross-sell and upsell items to improve income. These give customers something to look at in the queue and remind them of things to buy. Digital signage can be used with self-checkout to advertise membership benefits or limited-time specials.

Customer Service Counters

– The longer a consumer waits, the poorer their experience. The digital screen helps minimize perceived wait time by presenting useful recommendations and animations. Digital signage improves customer service.

Waiting Areas

– Digital signage in waiting rooms can provide helpful information, fascinating material, and breathtaking imagery to divert consumers and minimize perceived wait time.
Choose Clear Touch Media Digital Signage for Retail
Digital Display Advertising and Signage Are More Effective Methods for Engaging Your Visitors
We make digital visual communication possible so you can promote, engage, and reach your audience in an effective, interactive and emotional way. Digital signs, walls, billboards, and interactive displays are all part of our digital display advertising services in Toronto.
Visual technology runs the world today. Use digital displays for advertising to make your ads (and other communications) stand out and get people's attention. You can take your marketing to the next level with digital photos and videos. 
As one of Canada's best digital signage companies, Clear Touch Media can spread your message to a wide audience, or focus on a specific location or group of people. Visit us online or call us at (905) 362-2622 if you want to know more.
< Previous | Home | Next >
Please call us and book a digital display advertising demo today.